Cornell Field Tech Connect - Vendor Mobile App
Time is far too valuable to waste, and that is why we developed the Cornell Field Tech Connect mobile app. Our customized app allows technicians to streamline several aspects of their work, resulting in better managed service calls. The app features the following:
---
Accept or Deny Work Order Requests
Our app allows you to see work order requests in real time, and then accept or deny with the touch of a button. Work order listings on the app include: priority status, site address, work order notes, and equipment information. If you accept the work order, you can go back in and review the work order information at any time.
GPS Directions and Verified Check–In and Check–Out
The ride to work can be filled with traffic jams, delays and detours! We can't do anything about the traffic—BUT—using our apps GPS capability will ensure you get where you need to go. Additionally, by performing your own GPS verified location check-ins and check-outs, you can cut down on the amount of follow-up communication!
Easily Submit Before and After Photos
Snap and send! It's that easy. We've eliminated all the in-between steps for you. The Field Tech Connect App allows you to capture and submit before and after photos right from the app, which ensures prompt and accurate payment. Additionally, you can submit a photo of the sign off while still on site, enabling you to decrease follow-up from our staff.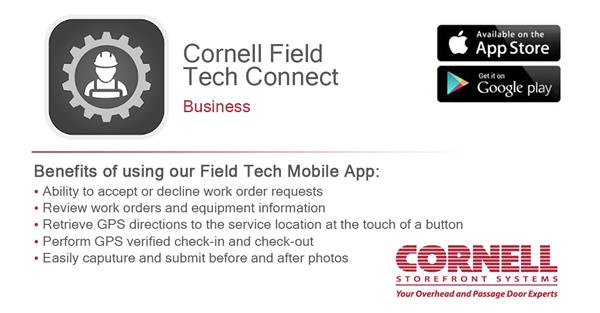 Available for free on Apple and Android devices.
---
Questions? Contact our Vendor Relations team.
Kelly Jones - Kjones@cornellstorefronts.com / 800-882-6773 ext.615
Sandra Pil - Spil@cornellstorefronts.com / 800-882-6773 ext.537